(This shop is currently under development. Please email if you have problems!)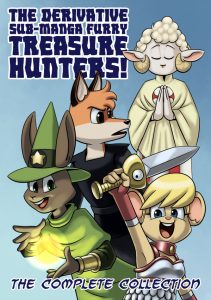 The Derivative Sub-Manga Furry Treasure Hunters! the Complete Collection – A5, 36pp – £5 inc P&P (UK only)
Join them on their dungeon-delving adventures as they seek out magical treasure, acquire a creature companion and find out what dungeons are really for!
This collection has all the strips, newly remastered and together for the first time, plus bonus content!
Copies are numbered and come with a unique sketch. Please choose:
Adventurer – choose a critter type and a D&D-style character class e.g. Fox Thief, Mouse Fighter
Treasure Map – choose environment/terrain e.g. Desert, Arctic, Candy
Random – default choice if nothing is specified. A randomly selected pre-sketched copy*.
You can add a specific detail (e.g. a weapon or motif) but please keep it simple! This is just a sketch and not a commission.
A gallery of completed sketches* is available on my DeviantArt account.
Please allow a few days for postage and for me to draw the sketch.
*Please note that I cannot offer specific pre-drawn sketches for sale as the copies with those sketches may already have been sold!